As part of the SEO experiment I have been spending way more time on the internet. I am getting started about 2hrs earlier in the morning now to do a little research, and then put up a post hopefully before you guys get to work and start looking on the internet for some non constructive activities. (This blog is educational and will grow your business. Just in case someone asks.)
While wandering the internet I have seen a lot about Twitter. Twitter is a site that lets you keep up with people by sending out short answers or questions. You can see an example of my "tweets" as they are called in the right column. As you can see they are short. The basic idea is that you get to see tweets from people that you want to follow, and the same is for people that follow you. On Twitter, a tweet is like your myspace or facebook status. It basically answers the question, "what are you doing?"
The useful thing about Twitter is that you can receive and make tweets with your cell phone or computer. While you are not required to use a cell it can be very convenient. As long as you have unlimited texting. Or if you have unlimited web you can log in to Twitters mobile site.
So why should you use it? Because SHAQ does. Do you need another reason? I know, I don't care what SHAQ is up to but that is what is great. You can see what people are doing with out being all personal with them. If I send a request to be your friend on facebook ,and you only know me through a blog comment, that would be weird and stalker like. With Twitter I want you to follow me. I don't care who you are. Really, follow me. Because if I break down on I65 I can send out a tweet and everyone I know will get it ,and merge left so they don't hit me as they pass. Twitter is a combination of texting and instant messaging that lets you communicate through the phone and computer to everyone all at once.
Companies could use twitter to send out notices to out of office staff. Instead of texting everyone or using the old, slow, email. Or let customers know that you have a limited supply of that thing they want and you just put it on sale. Seriously though the CEO has hinted that tweet will become a money maker for corporations.  Whoever you are you could find a reason to set it up and try it out.If for no other reason sign up and save your companies name so that when you do get on the ban wagon it will still be available. So sign up and follow me on twitter.
Once you have signed up try this cool twitter wheel. It shows you how everyone is connected. Mine is pretty sad looking. But once you sign up to follow me, I will show you the updated wheel and hopefully it will be bigger. When you create your wheel it gives you a url. that is like this http://www.tweetwheel.com/rushdesign . Make yours and leave the address in the comments below so we can all see.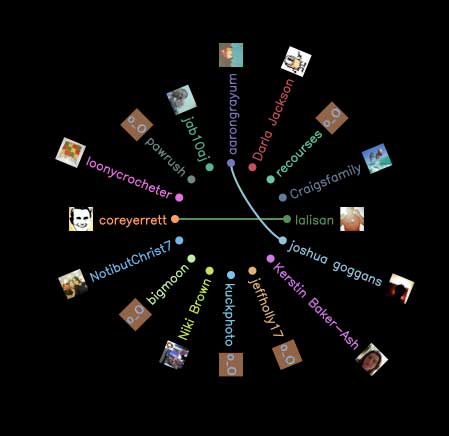 Other interesting notes about Twitter is that they were offered $500 million from facebook and said no. All this while Twitter has brought in little to no revenue. Although the CEO has said that that will change first quarter 2009.