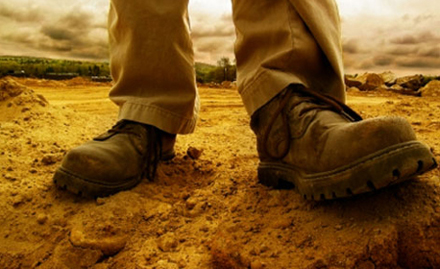 Ok I am not really a hunter or a farmer, but there are some great similarities in the way the we look for business. Both Farming and Hunting put food on the table but which is better.
First Hunting
Hunting is going out and looking for some business to drag home. The small stuff is a little easier to find and certainly easier to carry back. However the big business will feed you for much longer. Although the big business is usually harder to find and harder to drag home. But when you are successful there is nothing better than going out with a purpose, finding that big job, closing the deal, and enjoying the rewards of your hard work. The problem is the to many businesses rely on this approach exclusively. We wait until the last job is finished then go out looking for the next job. Maybe you will find it maybe you don't.  It can be an unreliable source of business.
Farming
Farming is a much more reliable form of getting business. This approach requires that you take the time and spend the money upfront and wait for the business to come in. Farming is not instantly rewarding. It requires putting up a good website that people can find easily, calling on potential clients on a regular basis, sending out a newsletter or marketing materials. To make farming successful you need to plant the seeds about your business all over the place and in time those seeds well mature and bring you more business. Some seeds take longer to machure and produce business but that actually works out to your benefit. If you are always sowing the seed about your business you will , over time, have a steady flow of business coming in.
So why do most business choose not to farm for business.
Farming requires an upfront expense. Hunting can be done by one person armed with a few business cards. Hunting brings instant results , when your successful, and farming takes longer before the results come in. The best plan is to do a little of both. If you will take the time to market your business on a regulare basis ,with good print and web design, when you go out looking for business the chances that you will succeed will be much higher. If the seed is already planted the hunter may just have to go by and pick it up.
Decide now that you will find at least one marketing plan to do on a regular basis. Commit to doing it for atleast 6 months. You will be glad you did. Please contact Rush Design Group if you need help your print or web marketing materials.